MyFreeCams - How does it rank?
Updated May, 2021 by Mike
MyFreeCams.com is a freemium cam site based in the United States where members and models exchange messages in a chatroom during a live video performance. This site was launched in 2004 and in a short span of time, it has become one of the most popular sites in the adult cam site community. The site has more than five million members and an average of about 100,000 models worldwide. MFC receives around 75 million total monthly visitors and about 24 million monthly unique visitors. In 2014 it was reported to be the 344th most visited site on the Internet. MyFreeCams hosts English-speaking cam girls from the United States and many other parts of the world. It is most popular in countries like the USA, United Kingdom, Canada, Australia, and Spain, as well as France. To summarize the offerings of this site, if you are interested in having a good time and watching sexy cam girls, this site might be for you.
The Pros
MyFreeCams hosts a wide variety of cam models. At any given time, there are over a thousand models online.
MyFreeCams follows the freemium model which means that spending money is always optional although private sessions are offered. Viewers can always find nudity and full-on masturbation shows by browsing around.
Viewers can create an account on MyFreeCams without any cost. Basic membership provides users access to the site's main features like chatting with models and members.
To become a Premium member on MyFreeCams, users can just purchase any amount of tokens of the site which upgrades their account automatically.
MyFreeCams is one of the most beginner-friendly sites. This site provides a guide around the site through their external Wiki link that walks you through the most important features. This guide can be found right before the "Create an Account" link on the site.
You become a Premium member for life and receive unlimited access to all the site's features by only purchasing tokens once at this site.
The Cons
At first glance, the layout of the site might seem a bit outdated.
Due to the poor user interface designs of the site, some new users might find it difficult to navigate the site.
MyFreeCams Features
To get more social models can upload photos and videos to share with members, announce blogs, and goals through the MyFreeCams Share option. Models can also create Clubs for devoted members to join.
Members can customize their profiles. As a member, you can post on other profiles, upload photos, and even make friends with other members of the community.
Users can use popup links to open a new window for each chat room which can be a great way to view multiple webcams at once.
MyFreeCams offers the option of a personal mailbox to send and receive direct messages from models and other members of the site.
As an advantage, premium members can access the private gallery of models full of random photos which can be a great way to find new models to chat with.
Besides getting access to a private gallery of models, premium members can watch a private show, group shows, or club shows.
Members can leave tokens as a tip or appreciation for the models while watching shows. Viewers can request specific acts for a fixed amount of tokens.
To find exactly the model that matches the user's choices, users can search models based on options like age, body type, hair color, gender, ethnicity, and preference.
MyFreeCams Price
While using any cam site, it's important to consider several things like costs, features, and most important, safety. But don't worry, MyFreeCams is perfectly safe to enter your credit card information. In fact, Users can receive reward points by spending money on MyFreeCams. More exciting options and features will become available to your account by earning reward points. MyFreeCams currently offers the following tokens packages:
200 tokens for USD 19.99
500 tokens for USD 49.99
900 tokens for USD 74.99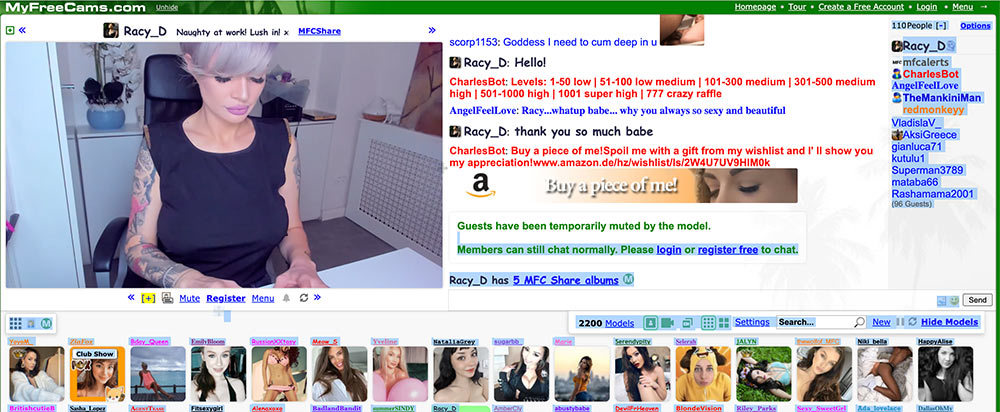 MyFreeCams Models
At MyFreeCams, users can find a listing of models on the homepage or below any chat room. To make it easier to find models, the model section is highlighted in various colors and each color may indicate different things. For instance:
Green indicates models you may like based on your preferences
Blue indicates one of the most popular rooms
Pink is for models that were added to your friend's list
Orange is for trending rooms
There is an option to hide a particular model in case you don't like her. Most models are between 25-34 years old. There is a large group of college-aged American webcam girls on MyFreeCams. Position on this site is based on a cam score. A cam score is based on the overall performance of each model in MyFreeCams over a period of time. Profiles in MyFreeCams are fascinating. Profiles can be filled out following several steps like the following:
Firstly, some basic information and physical characteristics like availability, location, gender, birthday, gender, sexual preferences, ethnicity, hair, eyes, hair, and body type. Habits like smoking, drinking, and drug use will be asked to fill out. It will also ask you about your occupation or study major since there are a lot of college-going members.
Secondly, fill out your favorites like books, music, and talents, turn on and offs, and perfect dates.
Lastly, some situational questions like the craziest thing that you have done, four things you can't live without, what you do for fun, and where do you want to be right at that moment. There are more options to add information on the bio part.
Note: Any of those questions can be left unanswered. Only answered questions are displayed on your profile. However, the more information you have on your profile, more chances you have to match with models of your choice and preferences. In a word, having a fully fleshed-out profile can optimize your appeal to members.
Does MFC have a mobile site or app?
MyFreeCams does not have a mobile app but has a mobile-compatible version. Comparing to the desktop site, the mobile site is less complicated. As a result, 65% of the members prefer using the mobile site which can be because of its convenience that lets you use the site anytime, anywhere.
When you use a mobile browser, the optimized build of the mobile site doesn't take up much phone memory space. While entering the site using a mobile browser, users are asked if they want to access the mobile or the desktop site. Even though all the other functions are the same, between the layout of the two versions, the mobile version looks more organized and appealing. The design of the site on the mobile browser looks much compact. If you are looking for a more positive user experience, mobile browser is definitely the way to go.
Conclusion
The sheer longevity of MyFreeCams speaks volumes to its appeal. This site doesn't need a facelift due to its loyal user base. It boasts an extensive focus on the freemium model and building a sense of community between models and members. From the homepage to the chat room, every aspect of the member experience is customizable. Based on the reports, payouts to its models are higher than many adult live cam site. If you love to socialize, MyFreeCams is a great option for new and old viewers to the live cam scene.
Freemium format is extremely common nowadays. If you like freemium models, you should check out our chaturbate review. MyFreeCams is one of the fastest-growing freemium platforms on the internet. To experience something a little more intimate, users should consider buying the premium option. The premium option is definitely worth your money.
Due to the brand messaging of "free cams", sex webcam site MyFreeCams became popular fast and has made it in a grand way in the adult cam site community. This site still has a lot to offer and has a massive space for growth. The chill atmosphere, and the community feeling of MyFreeCams, is exactly what you need and want in a live cam site.