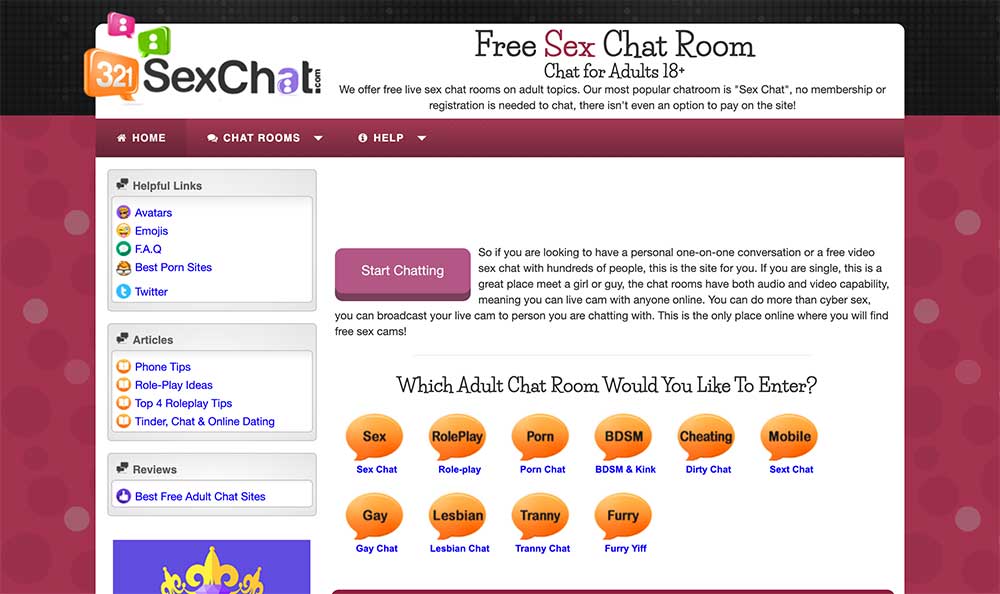 Is 321SexChat A Scam? Read Our Detailed Review
Updated June, 2021 by Mike
When you're alone in your room, and you want to meet a hot stranger to help you jerk off, it can be incredibly frustrating if you have to spend a hell lot of time trying to find a sex chat site that's actually authentic. Let's face it, most of them are just scam sites. 321SexChat comes with tons of features and promises users a surreal experience. Does it live up to its claim, or is it just another scam site? This article presents to you our 100% honest review of 321SexChat.
Our Review Of 321SexChat
321sexchat, true to its name, allows you to have a sex chat with strangers. You can experience a one-on-one session or join a group chat to talk about anything related to sex with a lot of people. 321SexChat is infamous for its chat rooms, and they have a lot of it; whatever kink you have, we're pretty sure you'll find a room for you. 321SexChat is a lot of fun, and you can even use GIFs that make conversations engaging and fun.
That's not all; they also have a ton of other features like articles, picture sharing, and even a VIP feature that offers users extra privileges. The best thing about this site is that it's free to use; you do need a membership, but 321SexChat won't try to sell you anything when you're using their site. You can have a really good time without wasting a dime.
The Pros
Chat rooms are filled with tons of users
A wide range of categories
Rooms are very responsive
Free to use
VIP access is lifetime and offers cool features
321SexChat User Interface
One of the best features of 321SexChat is its clean and simple user interface. If you want to start chatting immediately, you only have to click on the 'start chatting' button located at the top of the site. You can log in using your 321SexChat account, or you could sign in as a guest. If you're looking for a specific type of chat room, there are numerous chat rooms such as tranny, lesbian, gay, BDSM, roleplay, and many others located right below the chat button.
On the left side of the webpage, you'll find articles and helpful links to other features such as F.A.Q, Emojis, and Avatars. There are also tons of cam shows if you're interested. What we like the most about 321SexChat is that their site isn't bombarded with ads ensuring a smooth and seamless user experience. Overall, we don't have much to complain about the 321SexChat user experience.
The Sign-Up Process
Getting signed up on 321SexChat is a no-frills task, and you don't have to give too much information. The site is free, and you can even use it anonymously. If you're shy about using such websites, you'll be happy to know that no one has to know that you're registered on 321SexChat. Even if you're anonymous, you can still enjoy all your sexual fetishes. You only have to choose a username, and you can enjoy kinky sex chats.
If you're still not so sure about this site, you can use their guest feature. For this, you only need to choose the 'guest' option, and you'll be randomly assigned a girl to have raunchy sex chat with. However, you'll still have to choose a username for yourself. This option is free as well. In all, the sign-up process is super easy, and you shouldn't have a problem even if you're new to sex chat sites.
321SexChat Features
321SexChat is a simple sex chat site, but it still has tons of features to ensure that you have a great experience. This site also supports video chat and allows you to view webcams and stream for free. If you want to start streaming, all you need to do is click on the webcam icon. They also have a wide range of webcam categories such as ebony cams, tranny cams, college girl cams, lesbian cams, MILF cams, among others. Another great feature is that 321SexChat has a mobile chat page that's precisely optimized for maximum speed and performance on your Android and Apple phones and tablets.
You can upload your own picture or image, but 321SexChat also has various creative avatars for you to choose from if you want to remain anonymous. They also have a ton of emoticons which makes sex chatting even more interactive and immersive. That's not all; 321SexChat also allows you to 'whisper' or send a private message (PM) to anyone in the chat. If you PM, the other person will receive a pop-up on their screen, but if you 'whisper,' it'll be displayed in the room text, but only the person you targeted will be able to see it. These are interesting features that make sex chatting livelier and more fun.
321SexChat Chat Rooms
321SexChat has various chat rooms for you to choose from, such as furry yiff, tranny chat, lesbian chat, gay chat, sext chat, dirty chat, BDSM & kink, porn chat, role play, and sex chat. If you just want to experience the usual sex chat, you can go for 'sex chat'; if you want a little more flavor, BDSM and Kink rooms are full of girls that want to dominate you. Whatever fetish you may have, we're pretty sure you'll find it at 321SexChat. After you click on the chat room, 321SexChat explains what the room is all about, so you know exactly what you're getting into. That's not all; after you click on certain chat rooms such as BDSM or roleplay, 321SexChat even offers certain tips and even articles to help you improve your sex chatting skills. If you're a newbie, you'll find this feature very useful.
In the chat rooms, you can share nude pics, and most people will be expecting you to share as well. If you're looking for a long-term relationship, this site isn't for you. As we've mentioned before, users can send GIFs, and you can also change the theme of the room, text color, and the sounds you hear for a more immersive and personalized experience. You can also check other users' profiles and send them a direct message. This feature is particularly useful if you find someone that keeps you hard for longer than others. This pretty much sums up the chat rooms feature, and it has everything you'll need for a fantastic sex chat experience.
VIP Access Of 321SexChat
Like any other sex chat site, you can have a better sex chat experience if you're willing to spend some real cash. On 321SexChat, this feature is called 'VIP,' and it costs USD 20, but what makes it different from the other sites is that once you've purchased VIP access, you'll have VIP access for the rest of your life. Honestly, it's one of the sweetest deals we've come across, and if you regularly indulge in sex chats, you should get it. With VIP access, you'll have access to numerous features. It'll let you enjoy special emojis, which include Apple emojis and specialty sets. Around the holidays, they also feature exclusive emojis.
You can change your name and text colors with VIP access, and we found the gradient color to be particularly mesmerizing. VIP access will also allow you to copy and paste; you don't need to attach your files; you can simply copy and paste images into your private messages or chat rooms. VIPs can also check the chat history and view pictures and chats posted before you entered the room. One of the best features of VIP access is that you can create private and public rooms; if you have a fetish or want to sex chat with your sex chat friends, this feature will be highly useful. If you're a VIP, you'll also appear at the top of the user list. This allows you to get the attention of others in the room. VIP access offers a great collection of features, and at just USD 20, it's an excellent value for money.
Conclusion
321SexChat is a 100% legitimate sex chat site with tons of features and users to keep you entertained for a long time. The site is free to use and doesn't ask a lot of information, so you don't have to worry about it being a scam or your information getting stolen. We love the fact that it comes with an easy-to-use interface, and unlike other sites, it's not infested with annoying ads and banners. There is plenty of chat and cam rooms, and regardless of your fetish, it's easy to find whatever gets your rocks off.
While chatting or watching cams, we didn't experience any stuttering, and the user experience overall was fantastic. The VIP feature is also great, and at just USD 20 for lifetime access, it's much cheaper than most similar sites. However, the site is infested with a lot of cocks, but that's the norm with most sex chat sites. Overall, it's an excellent sex chat site if you want to have some naughty fun.