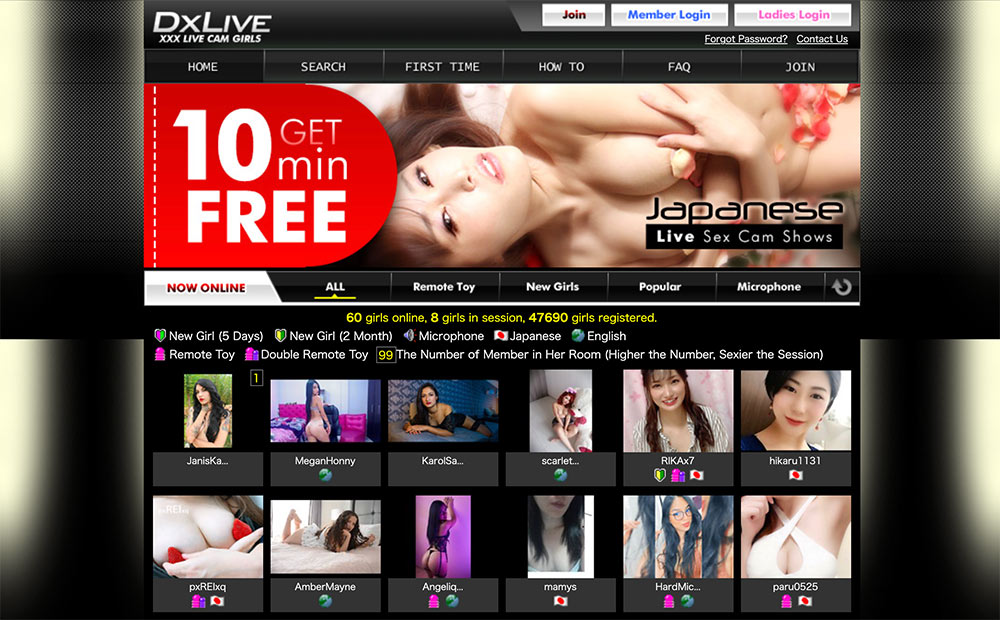 A Detailed Take on DXLive
Updated May, 2021 by Mike
DXLive is a dedicated Japanese cam girl platform featuring private chats and live sex shows. The website hosts only Japanese models that are located all around the world.
DXLive can be a good option if you are interested in Asian chicks. The platform is completely paid, and you can't even get previews for free.
You need to buy Points to enjoy the awesome features of DXLive.
What are DXLive Points?
Webcam sites use tokens or credits to pay the models. Viewers purchase tokens for money and use them for private chats, tipping models, and more. DXLive works on a similar system, where you buy Points to get access to paid features. You will need to pay in Points for anything you want to do on DXLive.
What do DXLive Points Give You?
You need Points even to watch a Japanese babe or get into chat rooms. Let's explore how you can spend your DXLive points to indulge in some erotic pleasure:
Peeping Mode
DXLive has a Peeping Mode where you can peek on a private show between a client and a performer. As the name suggests, you will only be able to watch the live feed as a passive audience. However, you won't be able to chat or make any requests to the model. Peeping Mode will need you to pay 1.2 Points per minute.
Chat Mode
You will need Points on DXLive to even chat with models. Otherwise, all you will be able to do is to view the profile of the girls. This is a basic chat mode and not a private chat. You need to spend 1.2 Points every minute to participate in group chats.
2Shot Private Chat
2Shot private chat is where you spend time and converse with a model privately. You are in full control of the show that is between you and your performer. Private chats cost 1 Point per minute.
2Way Chat
2Way chat is a private chat where you have the opportunity of turning on your webcam. Other platforms call it the cam2cam chat, and it is one of the most engaging features. 2Way Chats are unique but don't cost you an arm and a leg. You pay the same rate of 1 Point per minute to chat cam to cam.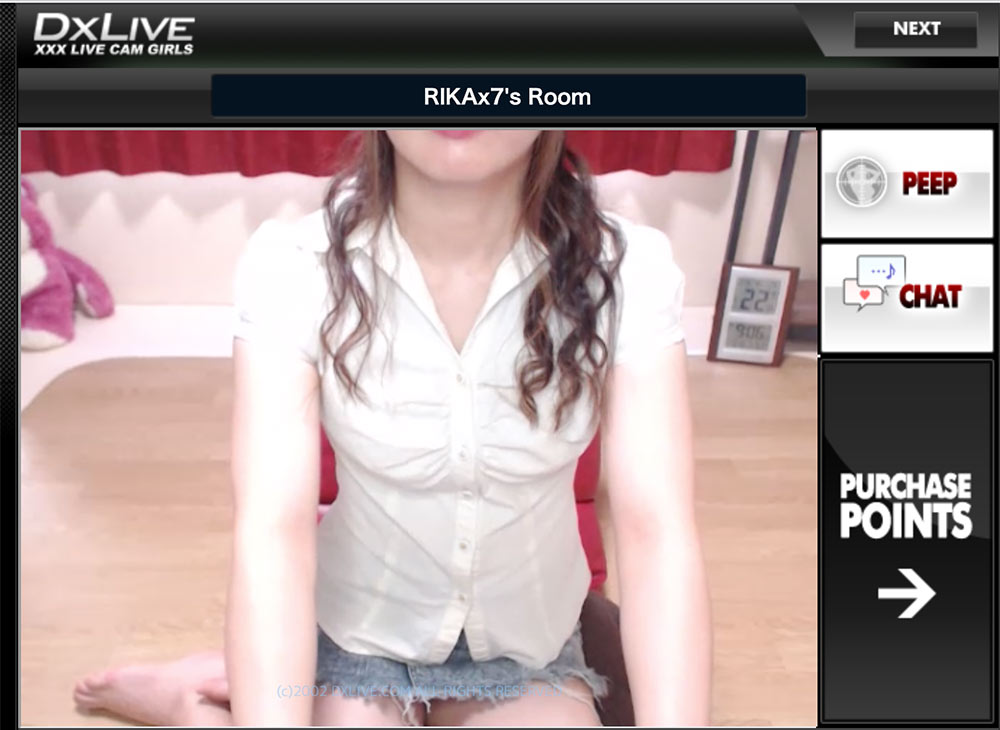 2Shot Private + 2Way Chat
The goodness of 2Shot Private and 2Way Chat are combined in this chat mode. You can chat privately with a sexy Asian girl and also share your webcam feed. Many viewers enjoy this mode, though it's a bit expensive. You will need 2 Points per minute to indulge in a 2Shot Private + 2Way Chat.
Remote Toys
DXLive has limited interactive features to provide more excitement to viewers. You can use sex toys remotely to play with your girl and derive more enjoyment. Adding a sex toy to your list of activities will cost you 1 Point each minute. So, if you use the sex toy for 5 minutes, you will have to shell out 5 points.
Double Remote Toy
DXLive gives you the chance to use two sex toys at the same time for more pleasure. You can stimulate your favorite girl in her pussy and ass simultaneously using this feature. The cost is double of using a single toy and needs 2 Points per minute.
Send Secret Messages
You can send secret messages to any model on DXLive, albeit at a cost. The secret messages are delivered directly to your chosen model and cannot be viewed by others. Each secret message comes at a price of 1 Point.
Send Gifts
DXLive lets you send virtual gifts to performers on the site. You can send four different types of gifts that cost:
Teddy Bear – 3 Points
Flower – 5 Points
Gift pack – 10 Points
Heart – 15 Points
The Cost of DXLive Points
You have to purchase Points on DXLive for dollars through credit cards. The prices of Points are as follows:
25 Points for $50
50 Points for $100
110 Points for $200
170 Points for $300
The cost of DXLive Points becomes affordable if you buy 110 or 170 Points. Else you have to pay $2 for every point when you buy less than 110 Points.
Can You Get DXLive Points for Free?
DXLive has no option for free Points. You will have to buy your Points for hard-earned money. Additionally, DXLive has no referral program like other webcam sites. So, you can't earn free DXLive Points by referring friends to sign up. Any website that claims to give free DXLive Points is a hoax. Please do not fall victim to their scam and lose your money.
Conclusion
DXLive Points are what you need to get your hands on the live action. Points buy your way into private chats, lets you share your cam, and even use interactive sex toys. Moreover, you can use Points to send gifts or secret messages to your favorite girl.