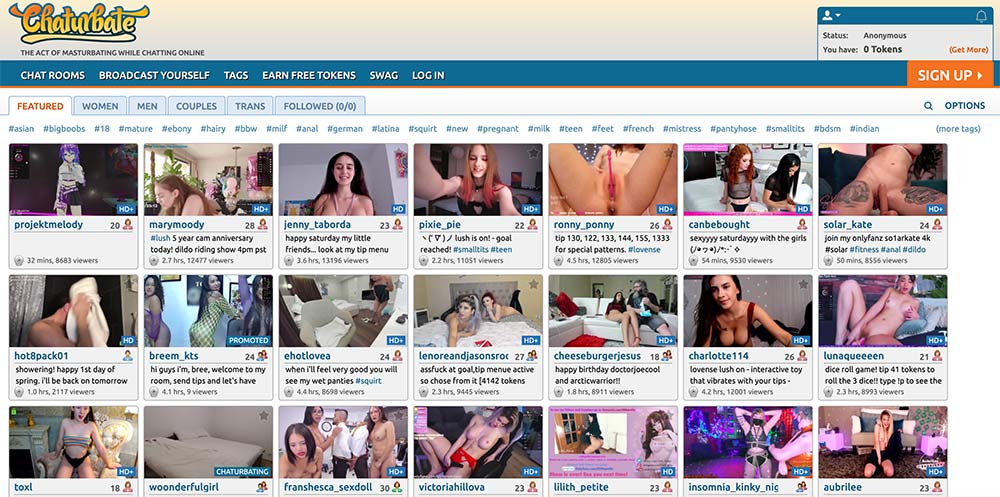 Free Chaturbate Tokens
Updated May, 2021 by Mike
Tokens or credits are what webcam and live sex show services use to tip models. They are like a virtual currency that unlocks private shows, interactive toys, and a range of premium features. All webcam services have a system of tokens that you can use even without becoming a premium member.
Chaturbate also works on a token system you can use to pay models. Viewers buy tokens for money while performers get their dues based on how many tokens they collect.
In this guide, we will explore the cost of Chaturbate tokens and what you can do with them. You can also learn about free ways to get tokens to spend on your favorite models.
What You Can Do with Chaturbate Tokens
Chaturbate is a great platform to watch hot and sexy webcam models for free. You may even be able to steal a few peeks of juicy shows where the models get down and dirty. But that's how far you can go without tipping the models.
You are not in control of anything when you don't have any tokens to tip the models. Why do you need tokens?
The performers on Chaturbate set up goals like flash tits or masturbate once they get a specific sum of tokens. For example, a model can set 50 tokens to strip for the viewers. Unless they get the tokens, you are not going to get any action.
The tokens you buy can be tipped to models to fulfill their goals. You can tip as many or as few tokens as you want, as per your wish. In group chats, other viewers can also contribute tokens and help to fulfill the goals.
Additionally, you will need tokens to activate the interactive sex toys the models use. You can tip more to increase the intensity of vibrations or switch on features of the toys. These are tip-controlled, and you have the full freedom to please your model the way you want.
Tokens are also necessary for watching private shows where all the fun happens. Private sex shows on Chaturbate start at 60 tokens per minute and goes beyond 100 tokens. Without tokens, you will never have access to alone time with your favorite performers.
Now, let's explore how much you need to pay for Chaturbate tokens.
The Cost of Chaturbate Tokens
Chaturbate sells tokens in specific numbers for money. The minimum number of tokens you can buy is 100, while the maximum is 1,000 tokens. The prices of the tokens are as follows:
$10.99 buys you 100 tokens
$20.99 gives you 200 tokens
$39.99 helps you purchase 400 tokens
$49.99 is the cost of 550 tokens
$62.99 brings you 750 tokens
$79.99 lets you buy 1,000 tokens
As you can see, the cost of tokens goes down as you buy more. The price of each token when you buy 100 tokens is around $0.11. However, if you buy 100 tokens more, the cost comes down to $0.105 per token.
Buying 1,000 tokens is the most affordable, where each token costs around $0.08.
We advise you to buy as many tokens as you can in one go to save your money. Also, your tokens will be exhausted quite quickly once you start spending time on Chaturbate. Even a private show costs 60 tokens per minute at the least, so you need 900 tokens just to watch 15 minutes of live sex shows.
Next, we will reveal a free way to earn Chaturbate tokens.
How to Earn Chaturbate Tokens for Free
Buying tokens on Chaturbate is not cheap. You will spend a lot of money once you start spending more time on the platform and tip the models.
As a result, a lot of people are looking for free Chaturbate tokens. Unfortunately, there is no magic way to earn tokens for free. You are mostly going to land yourself in a scam by believing anyone who promises Chaturbate tokens for free.
However, that doesn't mean you can't get tokens without spending your money. Chaturbate gives you free tokens if you refer your friends and they sign up on the platform. For each friend you refer successfully, you will get 10 tokens without any cost.
You can also earn 500 free tokens if you can get a performer to sign up and start broadcasting their shows. Chaturbate will give you your 500 tokens once your referred model starts earning money.
This is one of the best ways to get free Chaturbate tokens without even reaching for your pockets.
Conclusion
Chaturbate tokens let you enjoy the best offerings of the platform. You can tip models and get into private shows, and even activate interactive toys. Models also expect viewers to tip them for their efforts and set tipping goals. You can buy a minimum of 100 tokens on Chaturbate for around $10.