Free MyFreeCams Tokens
Updated May, 2021 by Mike
MyFreeCams is a trusted and popular cam site with countless viewers. You can find hundreds of models online any time of the day to enjoy some sleazy action. Tokens are what you buy to get access to private shows and all the awesome features of MyFreeCams.
In this guide, we will tell you all you need to know about MyFreeCams tokens. You will learn how much they cost and what are the ways you can use your tokens.
What can You Do with MyFreeCams Tokens?
Any paid feature on MyFreeCams needs tokens to be activated. You can watch models for as long as you want in public chats with a free account. But you won't be getting the real dose of erotica without spending on tokens. Let's explore what your MyFreeCams are worth!
Premium Membership
You become a premium member at MyFreeCams the moment you purchase tokens. Even the lowest investment can help you unlock all features for life.
You don't have to pay any additional charges to become a premium member. Just buying tokens makes you a valued member of MyFreeCams for eternity.
Best of all, you don't need to keep buying tokens to retain your membership. You're a premium member for life, even if you never buy any tokens again.
Steamy Private Shows
Tokens will help you access private shows, where you spend alone time with your models. What happens in a private show is totally up to you and your performer. You are in full control and can make dirty requests to your models if they are ready to oblige. Private shows need 60 tokens per minute to enjoy some raw and sleazy sex shows.
Voyeur Shows
You can watch ongoing private shows as a voyeur for fewer tokens. It costs 20 tokens per minute to enjoy spy shows between a model and a viewer. As a voyeur, you will only be able to watch the live feed and not the chat between models and users. Some shows are TruePrivate and don't have spying options. A member can activate this option to make cam shows truly private. However, the price for TruePrivate shows is 80 tokens per minute.
Group Shows
MyFreeCams allows group shows where multiple members can divide the cost of the show. You can join a group show at 10 tokens per minute, which is the most affordable of all shows. You can also send tips to models in group shows using tokens.
Model Pictures and Videos
MyFreeCams has a platform for models to share their nude pictures and videos. You need to pay a certain amount of tokens to unlock the content, which is up to the model to decide. Generally, you will need to pay upwards of 100 tokens to unlock picture or video albums.
Tip Models
Tokens help you tip models on MyFreeCams. You can tip one token at a time to your favorite models in all shows. However, there are no limits on the maximum number of tokens you can tip. Tips are gifts and don't put the performers in any obligation. You cannot tip a model and then demand they owe you something.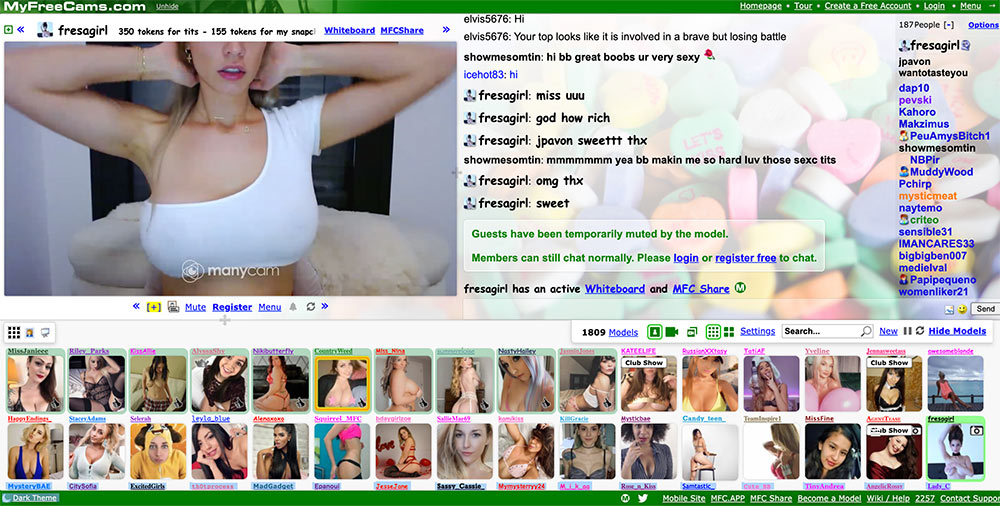 Cost of MyFreeCams Tokens
You can buy tokens for dollars on MyFreeCams. Below are the rates for tokens you can buy:
$19.99 gives you 200 tokens
$49.99 buys you 500 tokens
$74.99 is the price of 900 tokens
$149.99 brings you 1875 tokens
The cost per token decreases as you buy more tokens. As a result, buying in bulk is a better idea to enjoy affordability. At 60 tokens per minute, you will need at least 300 – 500 tokens to start enjoying a private show.
How to Get Free MyFreeCams Tokens
You may find websites advertising free MyFreeCams tokens. However, those are all scam platforms and will never give you even a single legit token.
You have another great way to earn free tokens on MyFreeCams. The trick is to get your friends to sign up on the site and make a purchase.
The referral program is called Bring a Friend and gives 20 free tokens when a premium member gets a person to sign up. Additionally, you will get extra 200 tokens without cost when your referred friend spends money on MyFreeCams.
If you are not a premium member, the first referral purchase will earn you your premium membership. You can then get the general rate of 220 tokens when your referrals sign up and make purchases.
Conclusion
MyFreeCams tokens allow you to enjoy the premium features of the site. You can become a lifetime premium member by buying tokens and get access to private shows and more. Tokens are also useful to tip models and show your appreciation. You can earn free tokens by referring friends and encouraging them to spend on the platform.