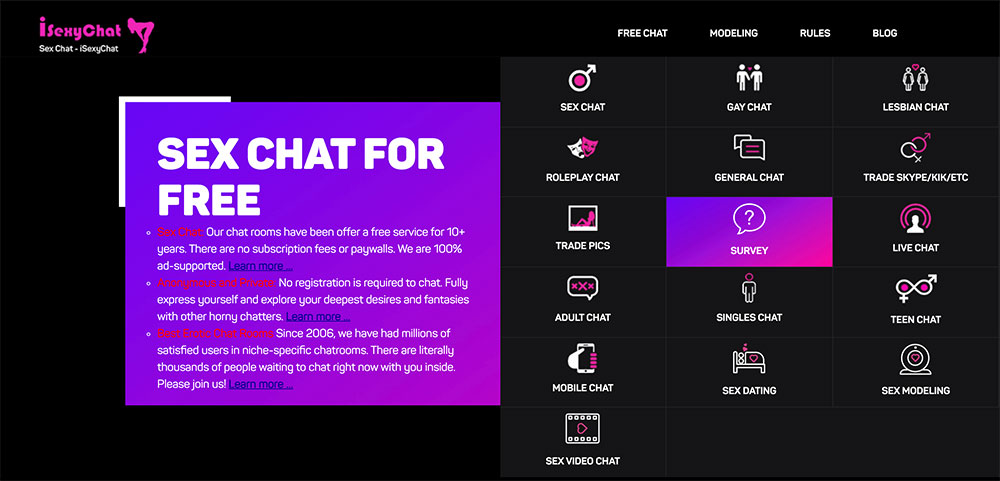 iSexyChat Review: Exchange Nudes, Sex Chat, and Get Laid for Free
Updated July, 2021 by Mike
Do you want to sex chat for free? How about finding someone to get laid tonight?
Today, we are going to review a unique website called iSexyChat. It is an innovative service that can help guys and girls to sex chat, exchange nudes, and even find a fuck buddy for free.
You will not find something as hot as iSexyChat on the internet very easily. Once you land up on the platform, you will find it very difficult to leave. No wonder countless men and women spend their free time enjoying hot and revealing erotic action on the site.
Let's explore more in our exclusive iSexyChat review.
The Pros
Wide range of chatting options
Everything is free
Choose from a range of chat rooms
Receive and send nude pictures and videos
Hook up with a local girl to get laid
Live chat available
The Cons
No customer support
Not much action in the chat rooms
What is iSexyChat?
iSexyChat is a sex chat service that claims to be absolutely free. You can chat with girls, guys, lesbians, trans, and more members without paying. The website also offers a range of features that are rare and not available on porn sites.
The service was introduced in 2006 and has served millions of members to date. You can easily create a nickname and start chatting with hot girls without any waiting.
iSexyChat Features
We will now check out the features of iSexyChat that make it among the best sex chat websites. You can enjoy a range of features for free like:
Free Sex Chat
iSexyChat has endless sex chat rooms to make jerking off exciting. You can choose from a list of different rooms and chat options like:
Sex chat: Chat with horny strangers and get things going.
Gay chat: Chat room for gays to hang out and have a good time.
Lesbian chat: This is the right place for you to chat if you are a lesbian and looking for some girl-on-girl action.
Roleplay chat: A sex chat room for people who like to act out erotic fantasies.
General chat: A general room for everyone to know each other and chit-chat.
Skype chat: Members can share Skype and Kik IDs to video chat with each other.
Live chat: Real-time sex chat with live members on the site.
Mobile chat: Visit the URL to chat from your mobiles.
You will never run out of chat rooms on iSexyChat. New and erotic rooms will always be waiting for you to jump in!
Trade Nude Pictures
Members can exchange nudes on iSexyChat without any restrictions. You can ask girls to send revealing pictures of themselves and also share your own. It is a great way to get intimate and have endless jerking-off material for free.
However, not everyone may share their pictures. You should visit the trade nude chat room to find people who are ready to exchange naked images. In addition, you may also exchange nude videos without any barriers.
Sex Dating
iSexyChat is the place to meet hot and horny singles ready to mingle. You can find a local girl who is willing to share her bed with you tonight. Members can also hook up with trans and men and look to spend a passionate time.
Best of all, you will never have to pay to fuck. You can even get laid with zero dollars in your wallet.
Sex Video Chat
iSexyChat lets you sex chat with members across the world. You can get up and close with a stranger and drop your clothes as you do on a webcam site. However, you will not always find members in the sex chat room and may have to wait for a while.
iSexyChat also offers a range of video chat rooms like gay chat and BDSM chat.
Cam Girls
iSexyChat lets members sign up for sex modeling. You can become a model and host live sex shows right from your couch. In addition, you can view and chat with cam models on iSexyChat. The service is free, and you just need to get inside a sex chat room.
Members can use the Modeling tab on the top of the page to become a cam model. You will get all the information and tips you need to become a pro model.
iSexyChat Pricing
iSexyChat never asks you to spend money. You can sex chat, exchange nudes, video chat, and even get laid for free. Plus, you don't even need to register or create your account to chat.
Just choose a username and click on your favorite chat room to jerk off.
iSexyChat Models
You will find everyday folks on iSexyChat. The site has men, women, and trans members who can chat with each other. Therefore, you will find girls and boys from all walks on the platform. You can easily hook up with a single lady and get a fuck date tonight.
In addition, iSexyChat also has webcam models. You can, again, find models of different genders to meet varied sexual preferences. Members can also go to same-sex chat rooms and enjoy some passionate LGBTQ action.
However, you do not have detailed member profiles to look at nude pictures or videos.
Does iSexyChat have a mobile site or app?
iSexyChat does not have a mobile app for the moment. However, you can visit the mobile chat link of iSexyChat to chat using your smartphone. Visit https://isexychat.com/chatrooms/mobile-chat/ and choose a room you like.
Conclusion
iSexyChat looks to be a promising option for free sex chat. You can also exchange nudes and jerk off without looking at boring porn videos. The platform also lets you video chat and find local buddies to get laid tonight. You can also become a webcam model and perform on the site.
However, it is not always easy to find people to video chat or share live sex streams. You have to wait for girls and guys to drop in to fulfill your desires. Additionally, not all rooms have enough members to have a good time.