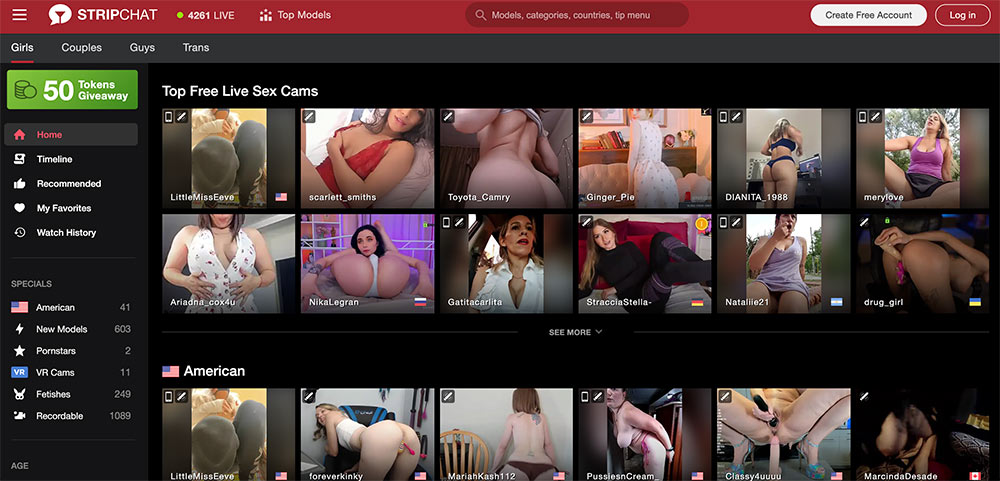 Stripchat: Live Sex Cams and Adult Chat With Naked Models
Updated May, 2021 by Mike
Stripchat.com is a popular cam sex website - featuring thousands of models from across the world who are ready to make you go hard on yourself. Most of the performers on this site are amateurs. Stripchat models make explicit content for horny cocks, like yours, and stream from the comfort of their bedrooms.
Feel the urge to start playing with yourself, but you better save it for the right time.
Stripchat can make an excellent way to find a sexy companionship. It reflects on the website's traffic growth of 25% in the US and Italy and 20% in Germany from 2019 - 2020.
Let's find out if Stripchat is really that good as it seems from the outside.
The Pros
It has a large pool of models of all ages
The website design is simple yet attractive
Free sign up
Profiles include straight ladies and men, trans, gays, and lesbians
A wide range of categories for live cams
The frequently asked questions section is very exhaustive
The Cons
There are not as many search options
If you try to navigate the website without registering, a sign-up request message will pop-up up every few seconds - which can be really annoying
Private shows are expensive sometimes
You cannot send a private message until you sign up
The site supports only one language, English
Stripchat Features
Most live sex websites appear the same at first. What makes them unique is the array of features that a site offers. Stripchat offers you a variety of exclusive features to make your virtual sex experience unforgettable.
Private show
You may flirt with the models over public streams and have fun, but the real game begins in the private shows. A private show is an opportunity to interact with your favorite Stripchat model and engage in one-on-one action.
During a private show, the model will be completely focused on satisfying you. You may request her to use sex toys and strip for you. If you make her happy with tips, she will take good care of you.
Although private shows are meant for personal interaction, the model may allow specific viewers to spy on these shows. However, they will not be able to disturb you, as they cannot comment or interact with the model in any way during a private stream.
Friends chat
At Stripchat, you can send private messages for free only to those users who have added you as a friend. You will need to get a VIP membership to send messages to random models.
Apart from users on your friend lists, a gold member can connect with you and send personal messages.
You can add a user to your favorites if they meet any of the following criteria:
Have sent you a personal message
Have been in your room
Added you to their favorites
Open chat
The website's open chat feature is free, meaning you do not have to pay anything to chat and flirt with the live models. However, when the model starts using a sex toy, you will need to pay to control her.
This feature is available only for members, so make sure you have registered before opting for an open chat.
Cam2Cam
Like most leading live sex platforms, Stripchat offers cam2cam features for people who prefer two-way communication.
Although this feature might cost a bit extra, it is definitely worth it. On a cam2cam show, a model does not just get naked and fuck herself, but she will watch you and respond. So it is more of a mutual thing, which can make your experience even more exciting.
Virtual Reality
VR software is a modern technology that has already made an impression in the adult industry. Stripchat hosts breathtaking virtual reality shows that are transmitted through a Bluetooth-activated VR system.
Open chat and cam2cam are all good, but VR chat takes your virtual sex experience to a whole new level. Make sure you are alone and locked before entering a VR chat session, as you might just get lost in your virtual world of fantasies.
With any surprise, this feature may seem too expensive, but it offers great value for money.
Members
All Stripchat members are categorized into four groups depending on the amount they spend on this site.
Grey: it consists of users you have just registered on the platform and are yet to buy their first tokens.
Green: The green members include users who have tokens and may tip models as they please. Green users are immuned from the knights, meaning that a knight cannot ban a green member.
Ex-Green: Ex-green refers to the users who were once green members but currently do not have any token in their balance. All the facilities are equal for the grey and ex-green members.
Gold: Gold members are the highest grade of Stripchat users. You can become a gold member by getting a monthly subscription plan.
Usually, the gold members are the heaviest tippers. So they get priority in most of the public streams, chats, and rooms. These users are also referred to as Knights, as they have the authority to mute or ban grey members for up to 24 hours. The Gold members can also send private messages to everyone.
Stripchat Pricing
Stripchat is free to sign up! You can register on this website for free and watch endless adult streams.
If you want access to its premium features, you will need to buy a subscription plan. The basic subscription plan starts at $9.99.
Here are the Stripchat pricing plans:
| Total Cost | Number of Tokens | Effective Cost Per Token |
| --- | --- | --- |
| 90 | $ 9.99 | $ 0.111 |
| 200 | $ 19.99 | $ 0.10 |
| 520 | $ 49.99 | $ 0.096 |
| 1080 | $ 99.99 | $ 0.093 |
| 2340 | $ 199.99 | $ 0.085 (Best Value) |
Although Stripchat is known to provide good value for your money, the pricing of tokens seems too expensive. Yes, there are live sex platforms that are even more expensive, then a few platforms provide somewhat similar services at a lower price.
If you decide to purchase a subscription plan, we recommend spending your tokens conservatively unless you are filthy rich.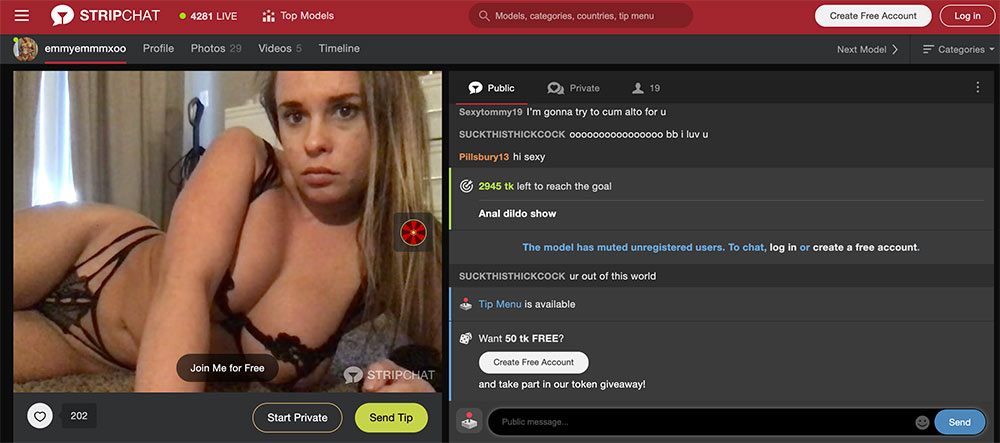 Does Stripchat have a mobile site or app?
The bad news is that, despite operating in the adult industry for years now, Stripchat does not have a mobile application. Currently, there is no official news about when we can expect a mobile application.
However, the website is accessible through any mobile browser.
Is Stripchat Legit?
The legitimacy is a matter of concern for any adult website, especially those claiming to offer premium features. However, there is no reason to question the authenticity of Stripchat.
It is a legit and one of the most reliable live sex platforms. The website has a secure payment gateway integrated to facilitate payments through an encrypted server.
Conclusion
Overall, Stripchat is a good platform for horny people, where they can thoroughly enjoy and get all types of sexual pleasures virtually.
Although there might be a minor risk of getting scammed by some grey users, you can avoid it easily. For instance, a grey user may offer you tokens at 50%, you should know that you're dealing with a fraud.
Stripchat's engaging features will make you return to the website time and time again. It is time for you to experience the sheer excitement of live cam sex on Stripchat.com.